Heavy Rubber :: The Great Lakes Surfing Wetsuit Guide
By Ryan Gerard | TCSS Owner

When I started surfing the Great Lakes in 1998 the first thing I learned from the tribal elders I was sliding waves with on the South End of Lake Michigan was simple but crucial: "Get a nice wetsuit." They knew that if you were serious about surfing here that you couldn't skimp on the rubber. If you did, you'd have a miserable experience and wouldn't last long. They were right, and they still are.

Wetsuit technology has drastically changed since the first dive suits were tested by surfers as a way to stay warmer on the central coast of California in the 1960s. Even in the 20 years I've been at it, the changes have been very noticeable as wetsuit companies continue to find ways to make the neoprene warmer, lighter, and stretchier. It's the holy grail of surfing wetsuits: to get the most warmth, stretch, and fast-drying suit to be as light as possible and to last as long as possible. They keep getting closer.

For us surfers, we want to find the best wetsuit we can for the price range we are in. Considering that our water temperatures in the Great Lakes vary from the freezing point (32 F degrees) in winter to 80 F in the warmest summers, there is a lot to consider here. Just remember: invest in a good wetsuit (or for many of us, wetsuits) or risk regretting that you didn't when you're freezing out there and the waves are firing. Here are some thoughts to consider…

Where are you surfing, and what time of the year are you surfing?

If you only plan to go out on our far southern shores (Lakes Erie and Ontario, and the southern half of Lakes Michigan and Huron) in July and August you may only need a 3/2mm fullsuit, a shorty/spring suit (usually 2mm), or a wetsuit jacket/top. Or if you're a real lightweight (and understand that you won't get out to surf here much in only a swimsuit), no wetsuit at all. But if you surf anywhere on Lake Superior or want to surf in fall, winter, and spring on any of the Great Lakes, you'll need more than that.

Even if only wanting to surf in summer, keep in mind that it's often a cool wind making the waves. The water may be warm, but the air maybe not so much. There is also a phenomenon called "upwelling" that often happens; when warmer surface water moves offshore and colder, deeper water "upwells" near shore. This typically occurs when the wind blows offshore – from land to sea – or on a certain swell direction, and can happen year-round.

Wetsuit thickness is measured in millimeters, so that's what the mm stands for. When you see a hooded winter suit that says 6/5/4mm, it typically means that there are 6mm in the chest and torso, 5mm in the arms and legs, and 4mm in the hood. This can vary a bit by manufacturer but it's a pretty safe bet to keep in mind.

So which wetsuit is right for you?

Let us try to help by breaking one year down into four Great Lakes surfing seasons and using the two general parts of the Great Lakes region referenced above; north and south. We'll do this because water (and air) temps can vary a lot across the region at any one time, especially Lake Superior vs. the rest of the Lakes. So keep in mind that this is a generalization, but a pretty trusty one.

Northern Great Lakes (Lake Superior and northern Lakes Michigan & Huron)
Note: water temps are in F degrees

Summer (June – September)
Lake Superior: water temps ranging from the 40s to 70 at the warmest
Northern Lakes Michigan and Huron: water temps ranging from 50s to 70s

Fall: (October – November)
Lake Superior: water temps ranging from the 40s to 50s at the warmest
Northern Lakes Michigan and Huron: water temps ranging from 40s to 60s

Winter: (December – March)
Lake Superior: water temps ranging from the 30s to 40s at the warmest
Northern Lakes Michigan and Huron: water temps ranging from 30s to 40s

Spring: (April – May)
Lake Superior: water temps ranging from the 30s to 40s at the warmest
Northern Lakes Michigan and Huron: water temps ranging from 40s to 50s

Southern Great Lakes (Lakes Erie & Ontario and southern Lakes Michigan & Huron)
Note: water temps are in F degrees

Summer (June – September)
Water temps ranging from the 50s to 80

Fall: (October – November)
Water temps ranging from the 40s to 60s

Winter: (December – March)
Water temps ranging from the 30s to 40s

Spring: (April – May)
Water temps ranging from the 40s to 60s

Okay, cool. What does this mean, then? Here's a general breakdown of which wetsuit types and thicknesses are typically appropriate for the different water temps. Obviously, the thicker suits pair better with the water on the colder side of the spectrum, and thinner suits for the warmer side of the spectrum. Keep in mind that this can vary depending on various factors like body type, tolerance for cold, etc., but this is a pretty good bet.

Wetsuit & Water Temp Guide
Note: water temps are in F degrees

Water: 30s – 40s
Wetsuit Type: Hooded 6/5/4mm or hooded 5/4mm
Booties: 7mm or 8mm
Gloves/Mittens: 7mm mittens or 5mm gloves

Water: 50s – 60s
Wetsuit Type: Hooded or Non-hooded 5/4mm or 4/3mm
Booties: 5mm or 3mm or none
Gloves/Mittens: 3mm gloves or none

Water: 60s – 70s
Wetsuit Type: 3/2mm or 2mm shorty/spring suit or jacket
Booties: 3mm or none
Gloves/Mittens: none

Here's a handy graphic from our friends at Xcel that can help break it down even further. We've been selling Xcel wetsuits since we first opened our doors in 2005…these guys know their stuff.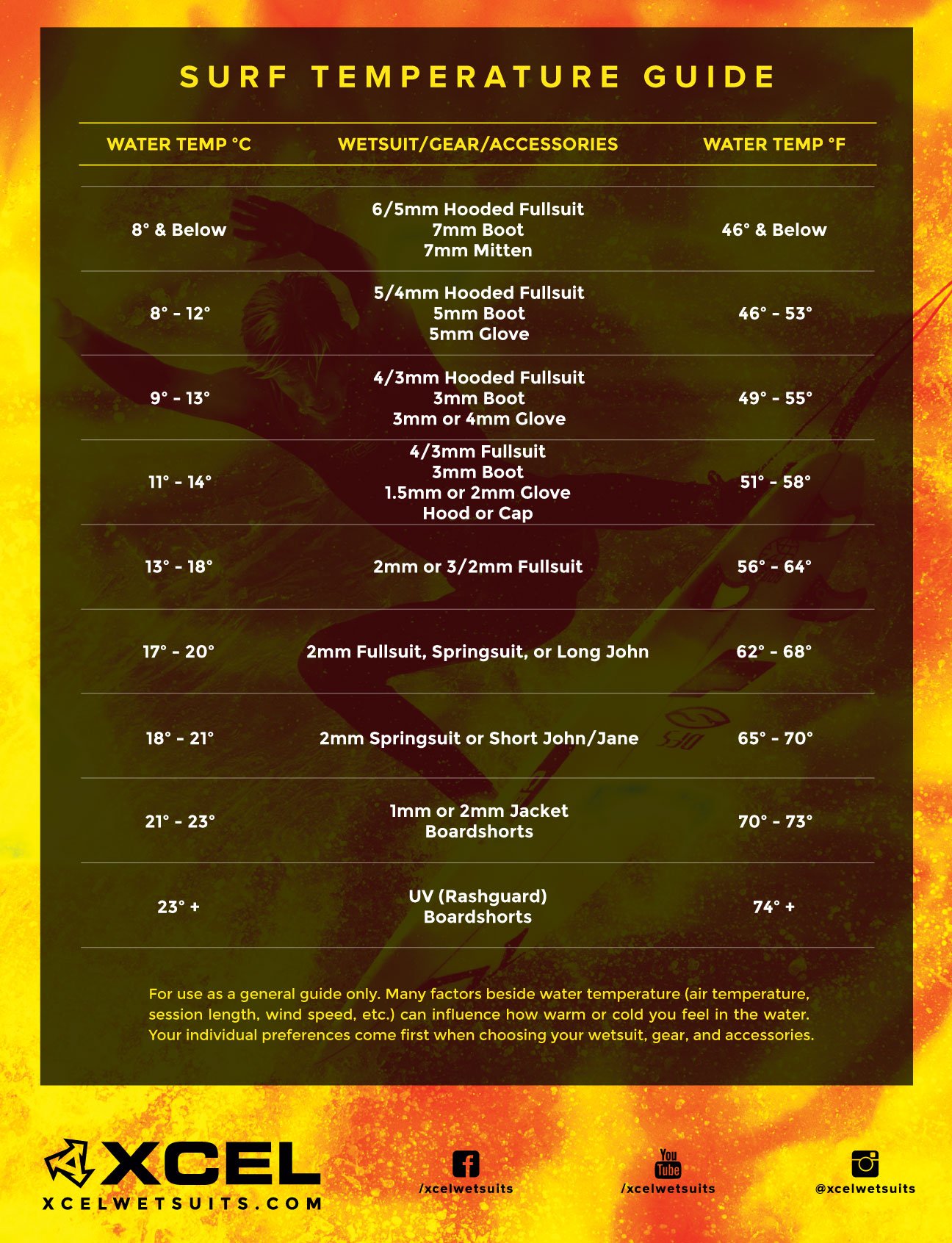 There are a few other wetsuit accessories worth mentioning because they can be handy options for some people, as they can help extend the "season" that you can get out of any wetsuit. Here's a list

- Cap or hood. There are various types and thicknesses, so it just depends on what you want to get out of it
- Hooded or Non-hooded polypropylene shirts. These can add the equivalent of an extra 1mm of warmth under a wetsuit
- Wetsox thermal footwear (for warmth under booties)

As an example, say you aren't too interested in surfing when it's really cold but want to get out in the summer and early fall. One option might be to go with a 3/2mm or 4/3mm suit, then add boots, gloves, and a hood (or hooded polypro) for early and late season.  For a lot of people, this type of setup could get you into October; and maybe even November.

And when the bug really bites and you surf year-round, you might end up with a full quiver of wetsuits. Mine ranges from a 1mm vest to a hooded 6/5/4mm. Here's my current full range:
- Xcel 1mm vest
- Xcel Comp 2mm jacket
- Xcel 2mm long sleeve, short leg spring suit
- Quiksilver 3/2mm Syncro Chest Zip
- Quiksilver 4/3mm Syncro Plus Chest Zip
- Vissla North Seas Hooded 5/4mm
- Hyperflex Cryo Hooded 6/5mm
- Plus the boots, mitts, and gloves

Last but not least, let's talk about what we sell at TCSS and why we sell it. We've worked with and sold wetsuits from a variety of companies over the years, always looking for the best blend of quality and price. Being a small shop in a unique surfing market (the Great Lakes), we aim to have a highly curated selection of wetsuits and wetsuit accessories that do exactly that: find the right mix of high quality at fair and reasonable prices. They're the wetsuits we wear, and we're stoked to offer them to you.

Our current stable of wetsuits are from Xcel, Quiksilver, Vissla, and Hyperflex. The first two have been making and selling surfing wetsuits for decades, with Vissla and Hyperflex being newer to the scene but producing incredible stuff at very reasonable prices. Read on to see what we are currently stocking, and as always, reach out to us any time for some guidance on what might be best for you! Call us at 269-932-4575 or email us at info@thirdcoastsurfshop.com.

Quiksilver 4/3 Syncro Plus Chest Zip
You won't find a nicer 4/3 for a better price, period. The Syncro Plus is light, warm, stretchy, and dries quickly. It's also super comfortable. A killer wetsuit for the price!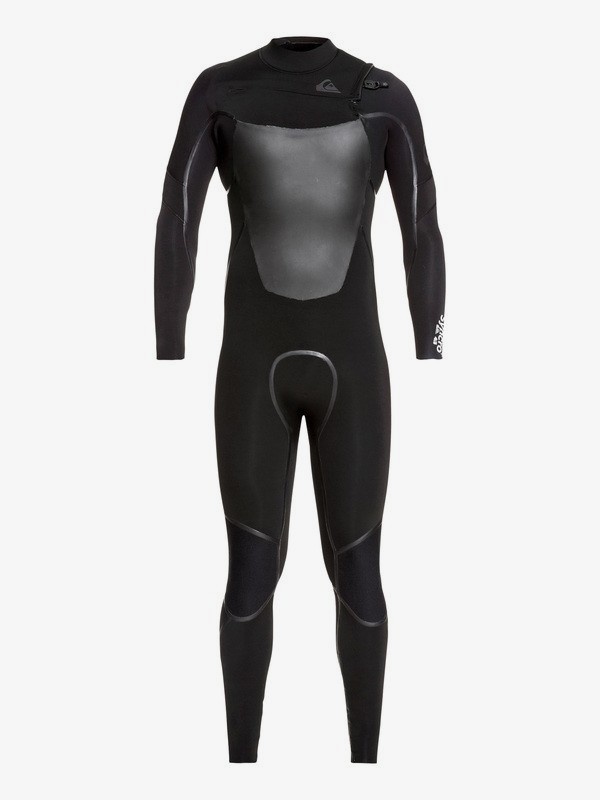 Vissla North Seas 5.5/4.5 Hooded
If you're serious about winter surfing but can't deal with the extra weight and lack of flexibility in a 6/5mm, this is the suit for you. Sure, you're giving up a little warmth, but you're gaining more flexibility in a suit that also won't weigh you down as much. If you're more susceptible to getting cold and/or want to be assured you're as warm as possible, check out the Xcel 6/5mm or Vissla 6/5mm below.
We've sold more Xcel 6/5 winter suits than any other since we opened our doors in 2005. It's no secret why: most people that have worn it (and other cold water suits) say it's the warmest wetsuit they've ever worn. We have customers come back for this suit every time they need a new one; don't even bother with anything else. Xcel upgraded it to Drylock status and continue to make the interior fiber better. Sure, it's more expensive. But if you want the best, this is it.


Hyperflex Vyrl Cryo 6/5 Hooded
New to the lineup this year is the Hyperflex Cryo Hooded 6/5mm, a thick and super burly cold water suit that we've been getting really good feedback on. Noticeably a little thicker than the Xcel and Vissla 6/5s, we'd recommend the Cryo for those concerned about having a thick suit for super cold conditions. It may not be quite as pliable and flexible as the other two 6/5s due to the extra thickness in the neoprene, but at $337, you're getting an insanely warm cold water suit at a very good price.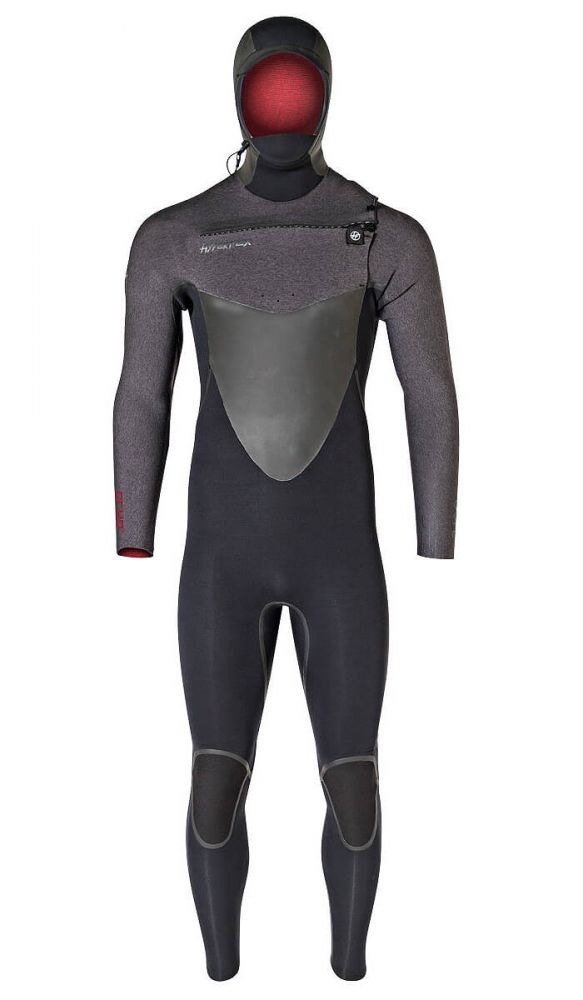 Vissla 7 Seas 6/5mm Hooded Stealth

Last on the men's list, but certainly not least, we are super stoked on the new 7 Seas 6/5mm hooded winter suit. Our minds are blown here as this is an incredibly functional cold water wetsuit at an unbelievable price: $299. Seriously. We're also stocking their 7mm boots and mitts, also killer. Buy all three and you're into a full winter surfing wetsuit setup for just over $400. Take a deeper dive into the new Vissla 7 Seas 6/5mm in this blog post.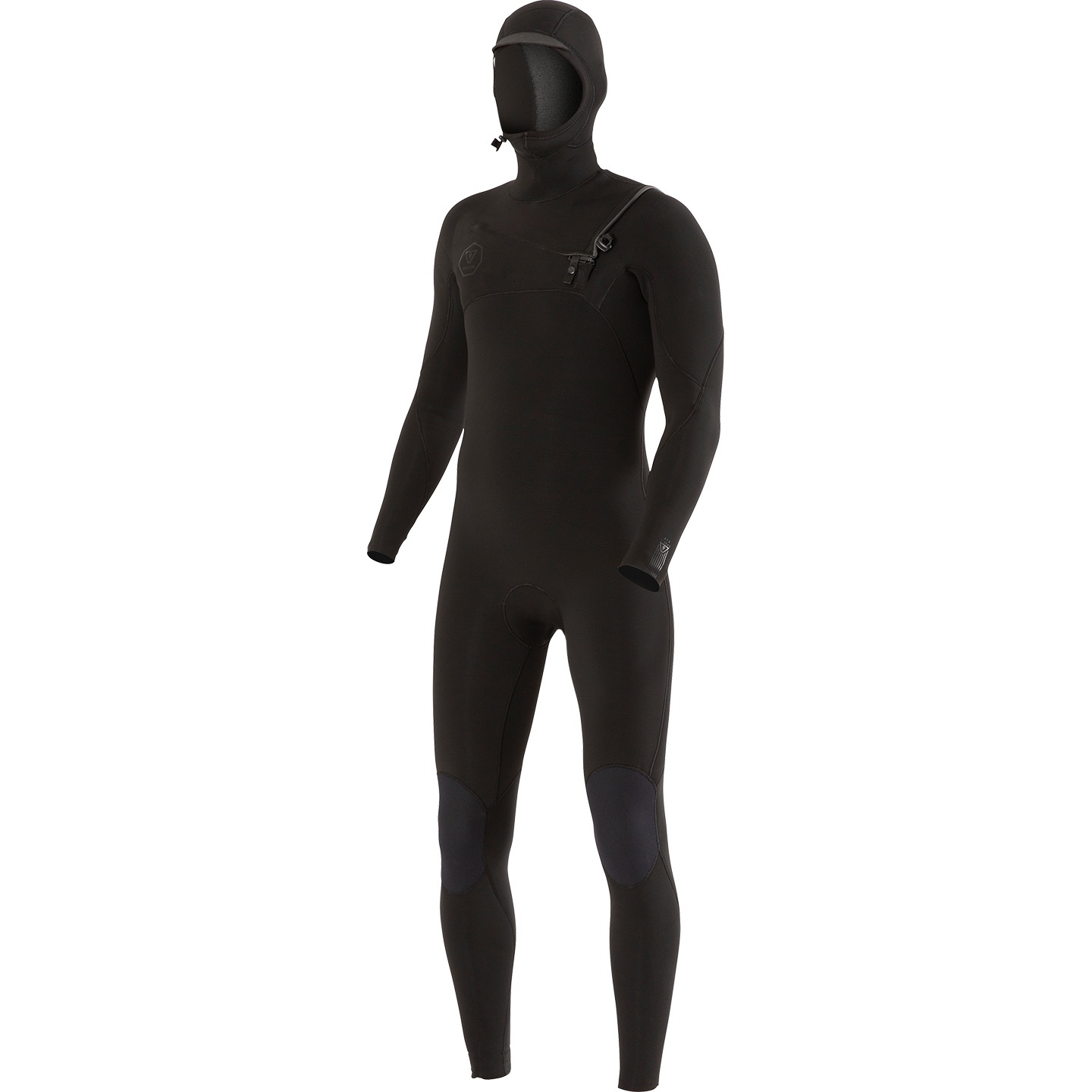 Hyperflex Women's Cryo 6/5 Hooded
Finally, a serious cold water surfing wetsuit for women! We've been waiting years for a hooded 6/5mm, and here it is. The Hyperflex Cryo was designed and tested specifically for use in brutal New England, Great lakes and Pacific Northwest Winters. At just $336, this is a warm, lightweight, stretchy hooded suit tailored specifically for women.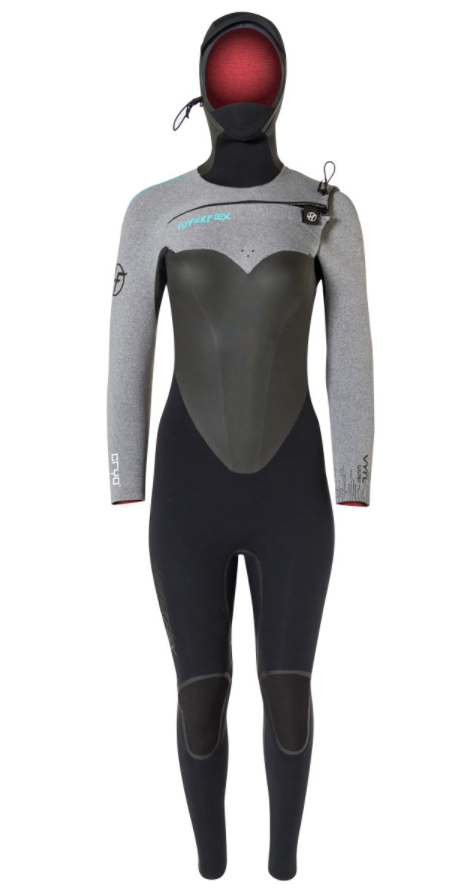 By far the best-selling cold water mittens on the market, period. We introduced Xcel wetsuits to Great Lakes  surfers in 2005 and the Drylock 7mm mitts and boots continue to outsell any other boot or mitt we've sold 5 to 1. It's simple: these are the warmest, highest quality mitts on the market. Trust us, they're worth the money.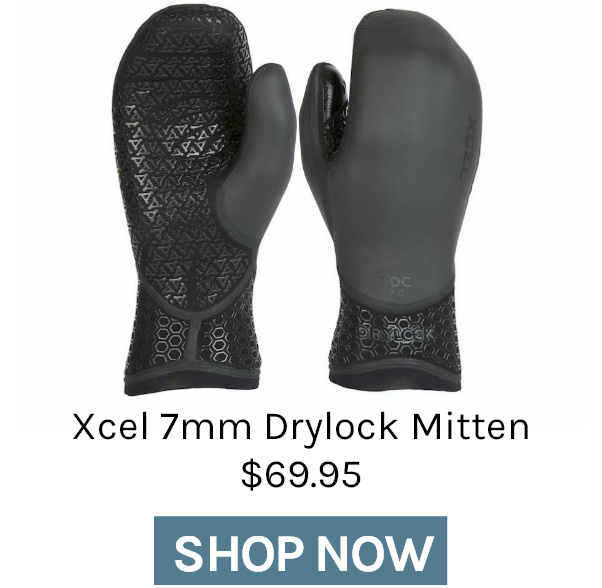 Xcel 7mm Drylock Boots & Xcel 8mm Infinity Boots
See the above description for the Xcel 7mm Drylock mitts and copy and paste it for the boots: these are the warmest, best-selling cold water booties in the world. Which is better, the 7mm Drylock or the 8mm Infinity? What's the difference? The main difference is the Drylock cuff and Celliant Black lining in the 7mm, which are upgrades compared to the 8mm. However, the 8mm has the extra 1mm of neoprene – obvious extra warmth. In the end, it comes down to personal preference, but trust us when we say that you can't go wrong with either.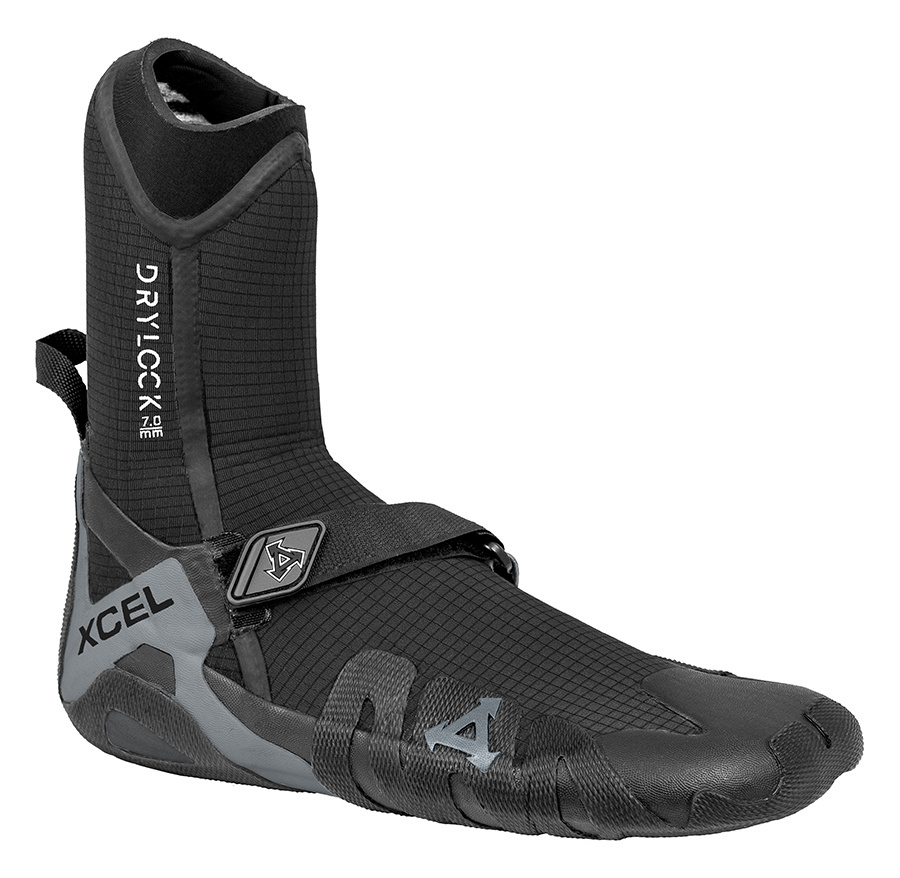 Vissla 7 Seas 7mm Mitten & Vissla 7 Seas 7mm Booties

Looking for a serious cold water mitten and boot at the best price? Look no further. Vissla's 7 Seas series is all about functionality without the fluff you see in some other wetsuit accessories. These are seriously nice boots and mitts priced well below the comparable competition, and we're not just blowing smoke. These are the real deal.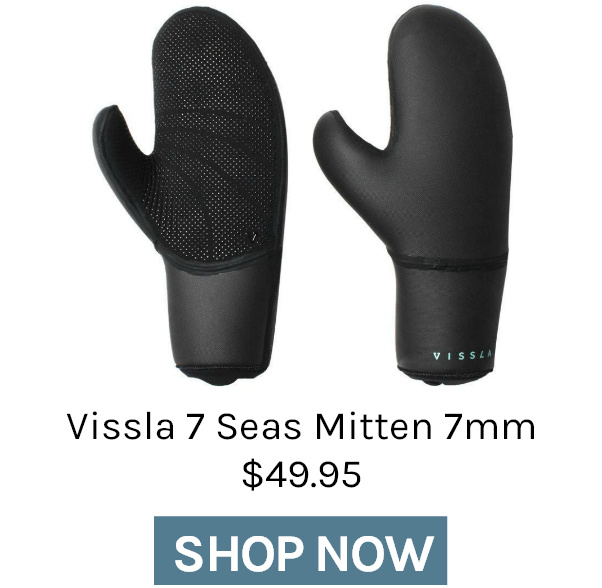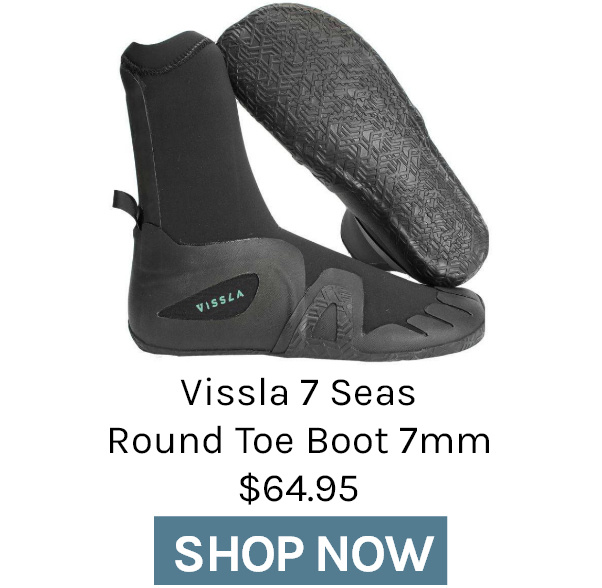 ---